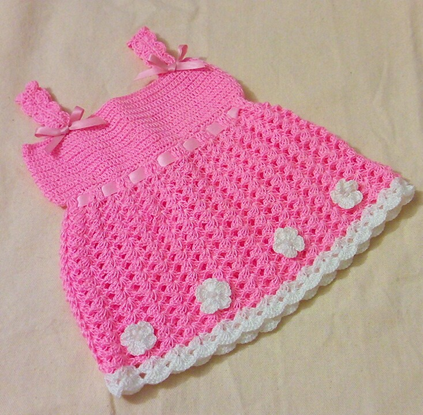 ***A warm greeting to all my friends, weavers, handcrafters, followers and all those who love beautiful things. I was absent for 3 days and now I'm in a hurry to publish everything I did these days.***
***I tell you that a beautiful work came to me, for a baby that is ready to be born, with the blessing of God. Her mommy sent me a design and although it took me a little while to get the pattern out, here I already have something elaborated.***
![barras13.gif](https://cdn.steemitimages.com/DQmPqaNyGioNPjC3unSaeWDdMf4PzoM9rYCmiWmk5nQ7Ype/barras13.gif)
https://cdn.steemitimages.com/DQmQpJZc8jH3xCd1CJzaFiAH13kEVXHVfbWw55T6rznXsLd/image.png


***The materials I used were a thin strand of gold Spider brand crochet thread and a 2mm needle.***
https://cdn.steemitimages.com/DQmP3KMat2zfwrdBRPDyEthyKRfUYoikriv2ckbQ3RP5avN/separador%20andrades.png
#
***Step by step newborn baby dress.***
![](https://cdn.steemitimages.com/DQmZeubxEiBkqDELhrCjPb1RNWeU6c7zniWr5BBzMJtyew1/image.png)
– The first thing we are going to knit is 130 chains + 3 chains which is equivalent to our first high stitch and so we start making high stitches all around the lap and close with satin stitch. We continue repeating the same procedure for 9 more laps.
– On the 10th lap we will make only low points, close with a low point and cut the thread. This part where we cut the thread will be the top of the dress where we will later place the strips.
![](https://cdn.steemitimages.com/DQmXy4m8pqPV4XPZ2aCgqFdsdoiDJSfzTpepsxae6MqQZUn/image.png)
– Now let's repeat the same procedure from lap 10 on the bottom of the dress, and we'll start fan-stitching until we get the desired length of the skirt.
– When we have all the low stitches done, we knit 3 cad. we skip 3 base stitches and go in with a low stitch at the quantum of the base. Weave 3 chains and repeat the same procedure, this way until finishing the turn, to form some hoops.
– In each one of those rings we have to weave fans of 2 double high points, a chain and two double high points, this way we repeat the fans in each one of the rings until finishing the turn. In this step I want to tell you that I did it this way with double high double pto since the ribbon of race that I placed to decorate it is number 1, but if you are going to put it of another size then you weave bigger or smaller this turn.
– For the skirt we are going to weave a row of fans but with two high points, a chain and two high points, put inside the chain of the fan that we made in the previous row. This way we continue making fans with 3 high stitches, a chain and 3 high stitches. We repeat as many laps as necessary. To finish the skirt, we change the color and make 7 high points inside each fan, so we continue until we finish that lap.
https://cdn.steemitimages.com/DQmP3KMat2zfwrdBRPDyEthyKRfUYoikriv2ckbQ3RP5avN/separador%20andrades.png
https://cdn.steemitimages.com/DQmfPvVnk8TodF9EHsELyM3Wy85TspkvPsBpSkXtNP8x8cD/image.png

***At the top we're going to knit two strips with the model you like best, I made it 12 centimeters long and fastened it with a wool needle.***
![bars13.gif](https://cdn.steemitimages.com/DQmPqaNyGioNPjC3unSaeWDdMf4PzoM9rYCmiWmk5nQ7Ype/barras13.gif)
***When the birth of a baby is approaching, it is a very special event and for us mothers much more, we want to prepare everything in detail and we want our baby to have the best, the most beautiful. That is why this beautiful mother has given me the precious task of making the suit with which she will take her little girl out of the clinic. Little by little I am going to show the things that I weave until I complete this trousseau.***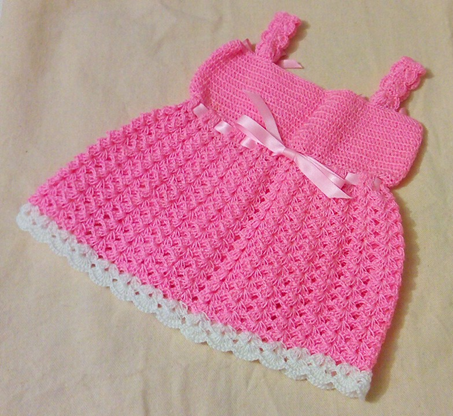 I hope you like this job as much as I do. I really put a lot of love and effort into making it beautiful.
https://cdn.steemitimages.com/DQmP3KMat2zfwrdBRPDyEthyKRfUYoikriv2ckbQ3RP5avN/separador%20andrades.png
Pictures taken with my Krono-net cell phone